Flickering Headlights | Mazda
🚗 2016 Mazda 3
When I turn the low beams on, all exterior lights start to flicker, including the low beams.
Here is a video of what was going on.
🩺 Diagnosis
When the 

low beam relay

gets disconnected, lights start to work fine

(except the low beams)

.
Quick swap of a low beam relay didn't change anything.
Testing low beam relay terminals with unplugged relay and low beams switch on didn't show anything suspicious.

Terminal A

(see image below)

had good load-tested ground.
Terminals A & C had good load-tested 12V.
Terminal D, on applying 12V to it, turned on low beams

(now, I think it slightly turned on other lights too)

.

Sounds like low beams don't have a good ground.

Upon testing ground on a low beam bulb socket (while lights were flickering) i discovered that ground wire was fluctuating between 0 and 8V!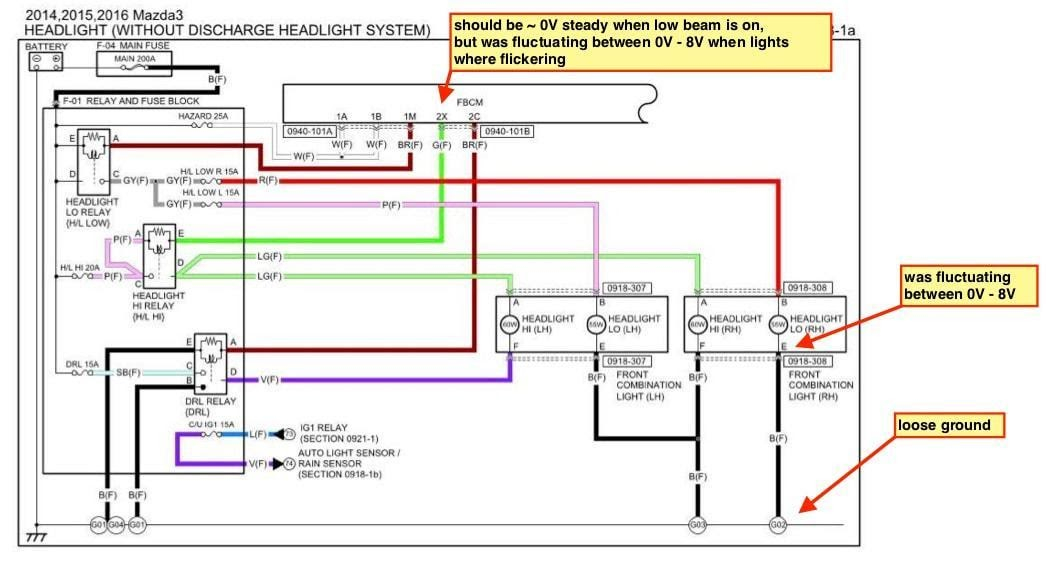 After studying the wiring diagram and a little digging around car's body frame on the driver's side, I located the ground point (G02) that supplies ground for the low beams.

And as expected it was loose 🙂
Why did all the lights flicker with low beams turned on?
Here are just my thoughts

Possibly it found ground through FBCM + some load (like a bulb) that had separate ground and when the bulb was cold, it gave sufficient ground for FBCM to operate. But when that bulb lit up, it heated up, and created resistance which stopped giving sufficient ground to FBCM.
With no sufficient ground FBCM was shut down, shutting all the lights with it.
With all lights off, now, again, there became available ground path through some cold/unlit bulb, and so on.
That is probably why the low beam relay was clicking.

According to the wiring diagram, G02 grounds not only low beams, but a whole bunch of other lights, including the FBCM module that activates low beams relay.
When G02 was loaded by low beams, higher current created higher volt drop (~8V, should be ~0V) between loose G02 and grounded car's body, and everything that relied on G02 for a good ground started to look for another ground through a path of least resistance.